Luis Fonsi - Despacito ft. Daddy Yankee - Daddy Yankee Lyrics
"Despacito" is a reggaeton song about the act of having sexual intercourse, moving slowly on the rhythm and dual attraction between the male and the female for who this song is written.
The track was moderately successful before the Justin Bieber remix, reaching #44 on the Hot 100 and topping the Hot Latin Songs chart. However, the week after Bieber's remix dropped, the song exploded to #9 on the Billboard Hot 100, becoming the first top ten of Luis Fonsi and Daddy Yankee and the twelfth of Bieber. The song climbed on to the #1 spot on May 27th and has stayed there for a consecutive period of 16 weeks, making it the only song along with Mariah Carey and Boyz II Men's single, "One Sweet Day." However, on July 29, 2019, the song "Old Town Road" by Lil Nas X beat out both songs with its 17 weeks on top of the Hot 100.
On July 19, 2017, "Despacito" became the most-streamed song of all time with 4.6 billion plays across streaming platforms.
Also, on August 4, 2017, the official video became the most-watched video on YouTube history, surpassing "See You Again" by Wiz Khalifa and becoming the first video to ever reach 3 billion views on YouTube. As of October 2019, it has over 6.5 billion views.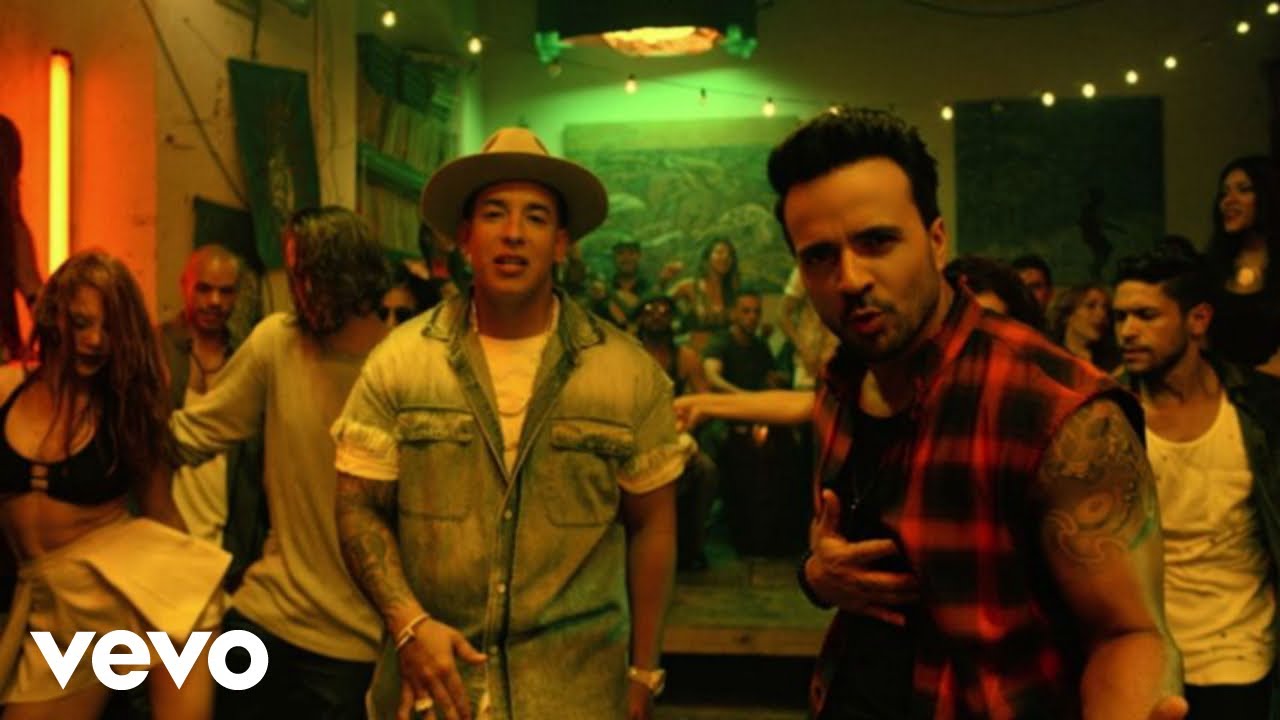 | | |
| --- | --- |
| Singer | Daddy Yankee |
| Singer | Luis Fonsi |
| Music | Luis Fonsi |
Luis Fonsi - Despacito ft. Daddy Yankee - Daddy Yankee With English Lyrics

Oh
Ay

Fonsi
Fonsi

DY
DY

Oh
Oh

Oh no, oh no
Oh no, oh no

Oh yeah
Oh yeah

Diridiri, Dirididi Daddy
Diridiri, dirididi Daddy

Go
Go
Yes, you know I've been looking at you for a while
Sí, sabes que ya llevo un rato mirándote

I have to dance with you today (DY)
Tengo que bailar contigo hoy (DY)

I saw that your gaze was already calling me
Vi que tu mirada ya estaba llamándome

Show me the way I'm going (Oh)
Muéstrame el camino que yo voy (Oh)
You, you are the magnet and I am the metal
Tú, tú eres el imán y yo soy el metal

I'm getting closer and I'm putting together the plan
Me voy acercando y voy armando el plan

Just thinking about it speeds up the pulse (Oh yeah)
Solo con pensarlo se acelera el pulso (Oh yeah)
Already, I like it more than usual
Ya, ya me está gustando más de lo normal

All my senses are asking for more
Todos mis sentidos van pidiendo más

This must be taken without any hurry
Esto hay que tomarlo sin ningún apuro
Slowly
Despacito

I want to breathe your neck slowly
Quiero respirar tu cuello despacito

Let me tell you things in my ear
Deja que te diga cosas al oído

So you remember if you're not with me
Para que te acuerdes si no estás conmigo
Slowly
Despacito

I want to kiss you slowly
Quiero desnudarte a besos despacito

I sign on the walls of your maze
Firmo en las paredes de tu laberinto

And make your whole body a manuscript (go up, up, up)
Y hacer de tu cuerpo todo un manuscrito (sube, sube, sube)

(Go up up)
(Sube, sube)
I want to see your hair dance
Quiero ver bailar tu pelo

I want to be your rhythm
Quiero ser tu ritmo

That you teach my mouth
Que le enseñes a mi boca

Your favorite places (favorites, baby favorites)
Tus lugares favoritos (favoritos, favoritos baby)
Let me surpass your danger zones
Déjame sobrepasar tus zonas de peligro

Until you shout
Hasta provocar tus gritos

And forget your last name (Diridiri, dirididi Daddy)
Y que olvides tu apellido (Diridiri, dirididi Daddy)
If I ask you for a kiss come give it to me
Si te pido un beso ven dámelo

I know you are thinking about it
Yo sé que estás pensándolo

I've been trying for a while
Llevo tiempo intentándolo

Mommy, this is giving and giving
Mami, esto es dando y dándolo

You know your heart with me makes you bom, bom
Sabes que tu corazón conmigo te hace bom, bom

You know that baby is looking for my bom, bom
Sabes que esa beba está buscando de mi bom, bom

Come test my mouth to see how it tastes
Ven prueba de mi boca para ver cómo te sabe

I want, I want, I want to see how much love you have
Quiero, quiero, quiero ver cuánto amor a ti te cabe

I'm not in a hurry, I want to take the trip
Yo no tengo prisa, yo me quiero dar el viaje

Let's start slow, then wild
Empecemos lento, después salvaje
Step by step, soft smooth
Pasito a pasito, suave suavecito

We are going to stick a little bit
Nos vamos pegando poquito a poquito

When you kiss me with that skill
Cuando tú me besas con esa destreza

I see that you are malice with delicacy
Veo que eres malicia con delicadeza
Step by step, soft smooth
Pasito a pasito, suave suavecito

We are going to stick a little bit
Nos vamos pegando, poquito a poquito

And that beauty is a puzzle
Y es que esa belleza es un rompecabezas

But to mount it here I have the piece
Pero pa montarlo aquí tengo la pieza
Slowly
Despacito

I want to breathe your neck slowly
Quiero respirar tu cuello despacito

Let me tell you things in my ear
Deja que te diga cosas al oído

So you remember if you're not with me
Para que te acuerdes si no estás conmigo
Slowly
Despacito

I want to kiss you slowly
Quiero desnudarte a besos despacito

I sign on the walls of your maze
Firmo en las paredes de tu laberinto

And make your whole body a manuscript (go up, up, up)
Y hacer de tu cuerpo todo un manuscrito (sube, sube, sube)

(Go up up)
(Sube, sube)
I want to see your hair dance
Quiero ver bailar tu pelo

I want to be your rhythm
Quiero ser tu ritmo

That you teach my mouth
Que le enseñes a mi boca

Your favorite places (favorites, baby favorites)
Tus lugares favoritos (favoritos, favoritos baby)
Let me surpass your danger zones
Déjame sobrepasar tus zonas de peligro

Until you shout
Hasta provocar tus gritos

And forget your last name
Y que olvides tu apellido
Slowly
Despacito

Let's do it on a beach in Puerto Rico
Vamos a hacerlo en una playa en Puerto Rico

Until the waves shout "oh, blessed!"
Hasta que las olas griten "¡ay, bendito!"

For my seal to stay with you
Para que mi sello se quede contigo
Step by step, soft smooth
Pasito a pasito, suave suavecito

We are going to stick a little bit
Nos vamos pegando, poquito a poquito

That you teach my mouth
Que le enseñes a mi boca

Your favorite places (favorites, baby favorites)
Tus lugares favoritos (favoritos, favoritos baby)
Step by step, soft smooth
Pasito a pasito, suave suavecito

We are going to stick a little bit
Nos vamos pegando, poquito a poquito

Until you shout
Hasta provocar tus gritos

And forget your last name (DY)
Y que olvides tu apellido (DY)