Dooriyan - Dino James ft. Kaprila - Dino James Lyrics
Dino James and Kaprila have sung the song. Yash Tiwari and Dino James have produced the music while Dino James has written the Dooriyan lyrics. The music video of Dooriyan song is directed by Himanshu Tyagi.


Popular rapper Dino James whose tracks are not just appreciated by critics but also by the masses is now out with his much awaited track 'Dooriyan' which was released on 6 December.

"Dino has always tried to push the envelope with every new track and 'Dooriyan' is no different. He felt his last song 'Tandav', which was a huge success had to be followed by a soft romantic track in order to give his fans something different. The female part of the track has been sung by Kaprila Keishing." adds a source.


Commenting on the same, Dino says "Dooriyan for me is a beautiful and a very real song about two individuals who could not be together, it's an emotion we've all felt at some point in life and I'm sure the listeners will resonate with these feelings. Post, 'Tandav' which had a lot of aggression in it, I wanted to something soft and soothing. While writing the song too, I wanted to keep it neutral and not make a song about blaming anyone of the two partners. That's one of the reasons why Kaprila came on board for the female part of the song. We've tried to give the song a subtle and real feel and I hope the audiences enjoy the track as much as we did creating it," he signs off.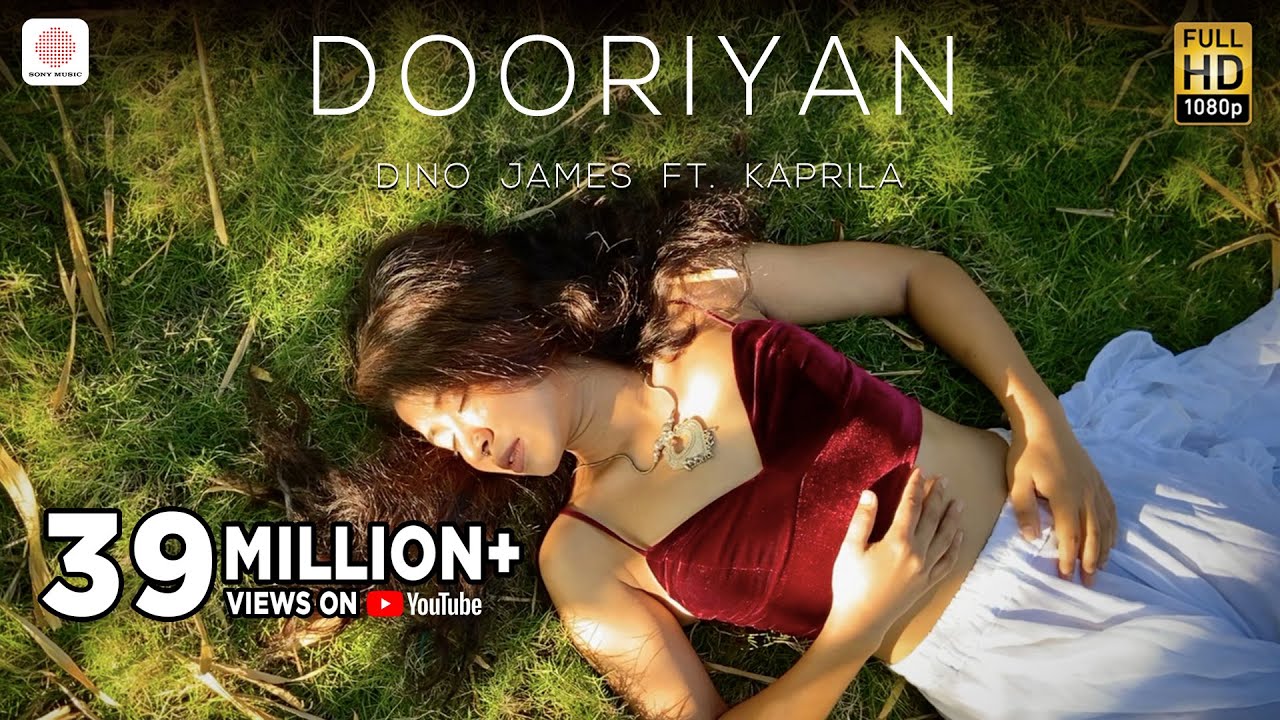 | | |
| --- | --- |
| Singer | Dino James |
| Singer | Dino James and Himanshu Tyagi |
| Music | Yash Tiwari |
| Song Writer | Dino James |
Dooriyan - Dino James ft. Kaprila - Dino James Lyrics
Dheere dheere se kaat rahi hai,
mujhe baant rahi hai tujhse yeh dooriya
Yeh bata de kya pyaar nahi tha,
khudaar kahin ka, tujhe dil kyun diya
Aage ka raasta kharab tha yeh laga tha bada Board
Mane bas yeh socha, hoga chota mota mod
Hua jab yeh haadsa, aur aaya mujhe hosh
Tab jake jana bus yahi tak thi road
Mana Meri galti thi, Meri thi saari chuk

Par teri bhi jab hoti thi mujhe deti thi looks
Maine chaha jab jaana mujhe kaha nahi kyu ruk
Kuch kehna tha par tune kar diya shussssh
Tu hai bani vajah meri siskiyo ki
aur mai hu beta karan teri hitchkiyo ki
tune bhe toh pal wo saare miss kiye honge
pata nahi tha khel yeh itne risky honge
Tujhe yaad bhi nahi aati meri that's a little rude
Tu saath nahi mere mujhe ab bhi lage jhoot
Kyu Chatthi nahi hai sali kaali si ghata
Najane kab niklegi dhoop
Dheere dheere se kaat rahi hai,
mujhe baant rahi hai tujhse yeh dooriya
Yeh bata de kya pyaar nahi tha,
khudaar kahin ka, tujhe dil kyun diya
it's funny kaise change ho rahe hai aapas mai saare Rishte
Pehle hug or kiss the, but Now it's all twisted
Hamesha diya respect, naa kabhi kiya misbehave
Fir bhi tujhse keh raha hu, forgive me all my mistake
Dekhna toh kaise ho gaya hai tera D

Bas fake jhoot bolu tune kiya mujhe cheat
Baaki Ek baat toh hai ke khoke ho gaya hu deep
Ab wait karu tujh tak pahunche mere geet
Mere face pe lekha hai emotionally hu weak
Mera make hai ke kho deta hu jo hota azeez
Saale waste ho gaye hai saare dates
Ab jaise mere chest pe kisine aake rakh de ho eent
duur se hee eak duje ko hum karte hai hi
ab bhe tujhpe marta hu, I don't know baby why
Ajeeb sa lage when I see you with some guy

Koi aake dede mujhe koi upayae
Dheere dheere se kaat rahi hai,
mujhe baant rahi hai tujhse yeh dooriya
Yeh bata de kya pyaar nahi tha,
khudaar kahin ka, tujhe dil kyun diya
Jitna mai tujhko bhoolna chahu
Utna rahe mere paas
Jane mai kab se juunjh raha hu
Samajhe naa itni se baat.
Dheere dheere se kaat rahi hai,
mujhe baant rahi hai tujhse yeh dooriya
Yeh bata de kya pyaar nahi tha,
khudaar kahin ka, tujhe dil kyun diya